Polimoda visit MDC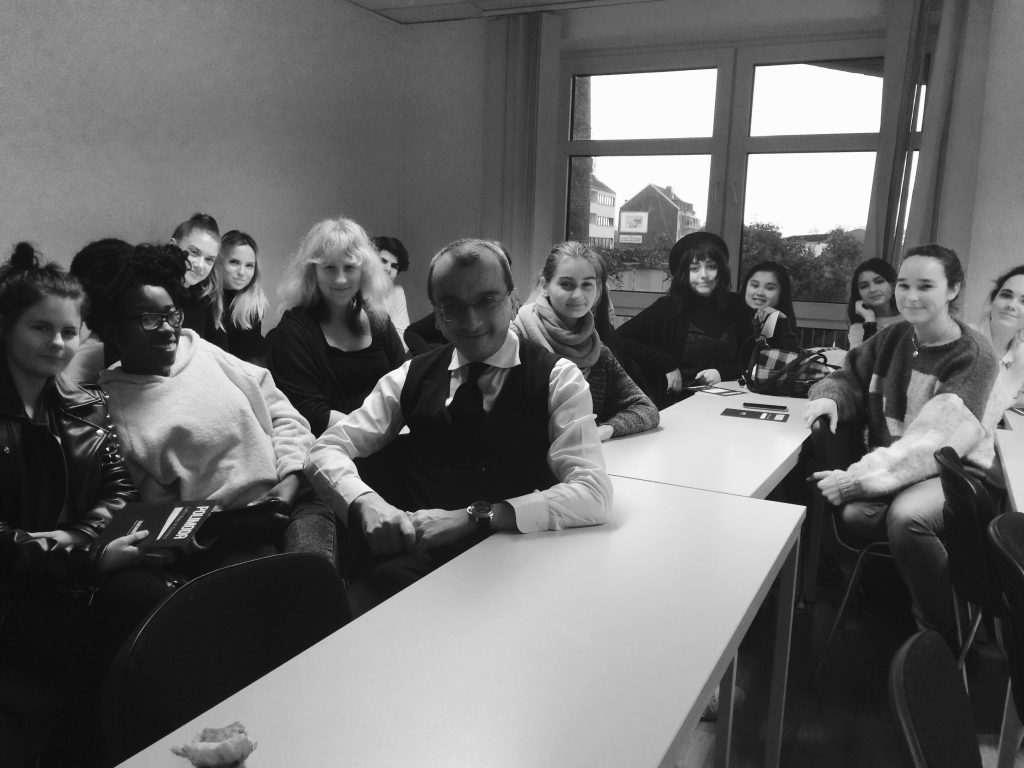 The Mode Design College Düsseldorf had the pleasure to be hosting a guest lecture by Marco Crisci from Polimoda. Our student Kevin Thommes was present and he has provided a short review of the interesting aspects of the lecture.
The topic was "The future of Fashion after the Luxury Bulimia" and to begin his lecture, Marco Crisci emphasised what a serious business Fashion is today. With over 80 billion pieces of clothing produced per year but he also warned us about the future of a business that has previously thrived on finding and exploiting new and emerging markets in order to fulfil the customers' needs and generate profit.
This overexposure and saturation of the markets have two main reasons. Firstly there is a severe disconnection between the market and the "market" that exists in the minds of the customers. The real market is not located in some country, like China or the USA, but it is the mind of the people. Secondly as companies grow old and fail to update their image to match the expectations of the millennial generation brands are forced to close stores or shut down their business. Like for example Louis Vuitton, the luxury brand had to close 20% of their stores in China, due to the disconnection from the customers. By 2024, 50% of the overall customers of fashion brands, especially luxury fashion brands, will be the millennial generation. Therefore it is extremely important to add emotional value to a brand, in order to stay competitive.
I personally found that the second reason is more interesting because it has to do with emotional value rather than the price of a luxury fashion item. Luxury casual wear has become socially acceptable and suitable for almost every event over the past few years and through collaborations with artists, luxury fashion brands, such as Louis Vuitton & Virgil Abloh, try to add value to their designs and attract new customers.
Another interesting problem that brands face today and it is something I have caught myself doing, is the mix-and-match trend. Millennials tend to mix luxury fashion items with cheaper items of clothing from fast-fashion retailers such as Zara or H&M. Customers nowadays are not loyal to a brand anymore, they don't love a brand the way other generations used to endorse a brand.
Millennials which includes all our students at the Mode Design College, endorse a brand for what they have to offer right now. They may be attracted to a certain product because influencers such a Chiara Ferragni encourage them to use a specific product. The main reason why people take advice from influencers when buying a product is because they are people you can relate to and I must admit, I relate to some of them too, not only because of their advice, but because they seem to be the girl/guy next-door, who gives you advice on what's trendy and hot right now.
Marco Crisci closed his lecture with information on how to create a successful product that sells. Here he highlighted that the key is storytelling. Storytelling brands attract customers, bind them and make them feel unique. Why else would you buy a luxury handbag from Hermès, when you could buy a knock-off from a cheaper retailer for a much much lower price? The answer is simple – because you want to feel special, or to feel like "a princess" as he so eloquently put it.
As a fashion design student, the advice that I will take away from the lecture is the information he provided on how to create a start-up brand and to becoming a well-known fashion brand was very interesting. Try to transform luck into a chance, then you have the opportunity to transform your idea into a product. Keep a clear vision of the way how you want to be perceived by customers and start by telling a story. Becoming relevant is the next issue of the future and staying so can be challenging, especially for emerging brands.
Mode Design College would like to thank Polimoda once again for the visit and Marco Crisci for interesting lecture.